​Less is More is a collection about elegance, conciseness, self-confidence, and the delight of being a woman. The perfection of minimalism, the smoothness of the lines, and the fragile energy of the female essence are intertwined in each gown. Today we are going to tell you how to style and choose accessories for several dresses from the collection.
Aretta
Aretta is a dress that is completely decorated with sequins and beads. The gown bares the shoulders, accentuates the decollete, and emphasizes the figure. It has long sleeves that are also embroidered with sequins and a skirt that goes into a small train. This dress is the choice of a confident bride that wants to shine and is not ashamed to show off her figure.
For such a self-sufficient dress we advise you to choose laconic earrings with stones or minimalist ear threads. Classical court shoes with a pointed toe or open-toe shoes with thin straps will suit the image. Moreover, choose a minimalist clutch, without bright or massive details.
Florida
Florida is an embodiment of sophistication and elegance. The minimalist sheath dress is made of smooth satin, has a boat neck and a small train. The gown looks flamboyant due to a wrap that is completely embroidered with beads, sequins, and crystals. This dress will be a perfect choice for a bride that is looking for a concise and at the same time unusual wedding gown.
We recommend you choose high heels or toe shoes with sequins. Pay attention to the clutches, which are decorated with crystals or stones — they will chime with the wrap. You can complement the outfit with a set of thin chain and small earrings.
Mary
Mary is a lush dress that is made of glossy satin fabric and complemented by a spectacular bolero with voluminous sleeves. A-line silhouette, square neckline, and wide straps. The corset accentuates the waistline, and the voluminous skirt goes into a long luxurious train. Minimalist and at the same time very feminine.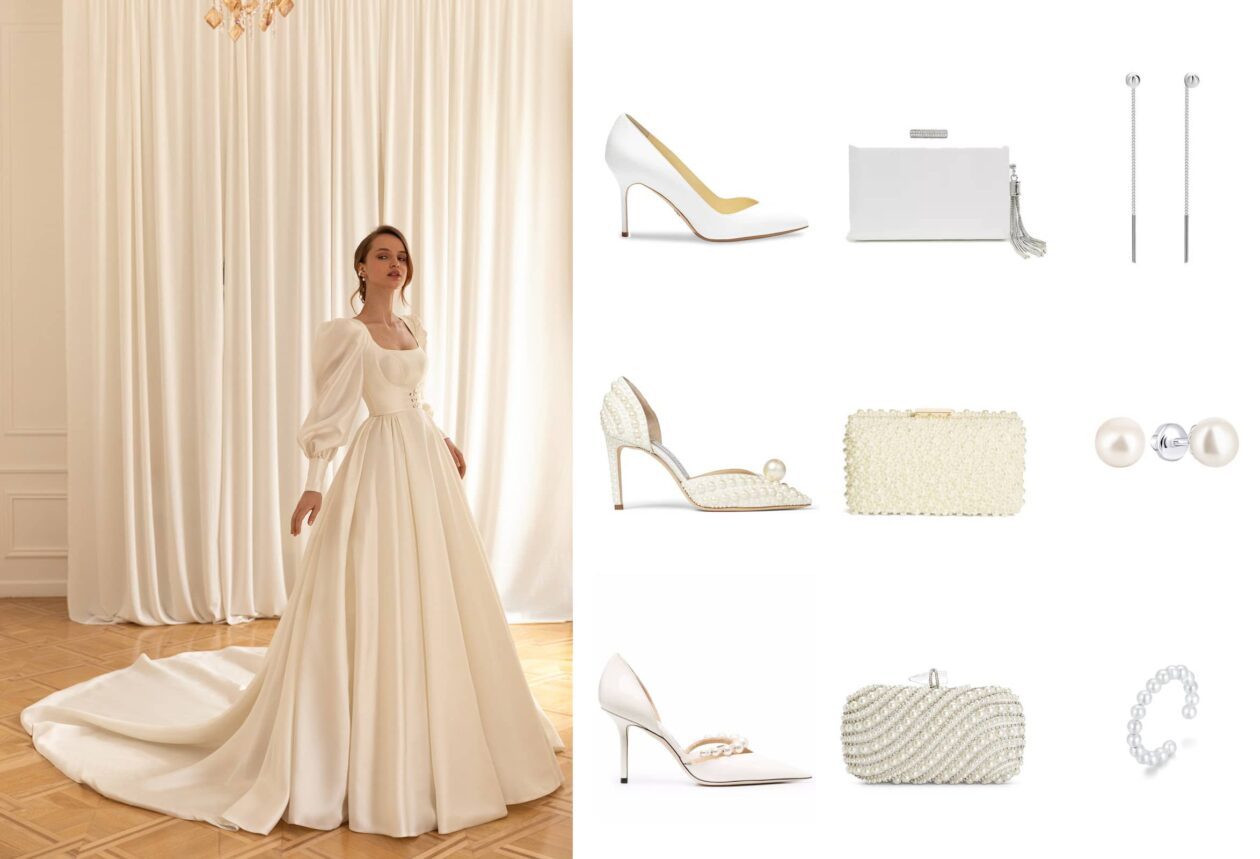 A laconic hairstyle together with eye-catching ear cuffs, or classical earrings with pearls will suit the dress. You can choose both shoes without decor or a pair with pearls or stones. When it comes to a clutch, choose it by the same principle — either with a smooth texture or decorated with pearls.
Napoli
Napoli is an alternative wedding look for the modern bride. The jumpsuit is made of white crepe satin and translucent fabric with lace that is embroidered with sequins and beads. One-shoulder sleeve, inflated waistline, and a spectacular train that can be removed.
We offer you to choose minimalist earrings with stones or pearls for this unusual wedding outfit. Toe shoes with thin straps, classic court shoes, or shoes with decor will definitely fit here. When it comes to the clutch, you can choose one that resembles the texture of a jumpsuit trouser legs or clutch with shiny stones.
Tokyo
Tokyo is a mermaid dress that is entirely made of lace and embroidered with sequins, beads, and pearls. It has translucent sleeves and voluminous shoulders. Another splendid detail is a fabulous tulle skirt that is fixed on the waist.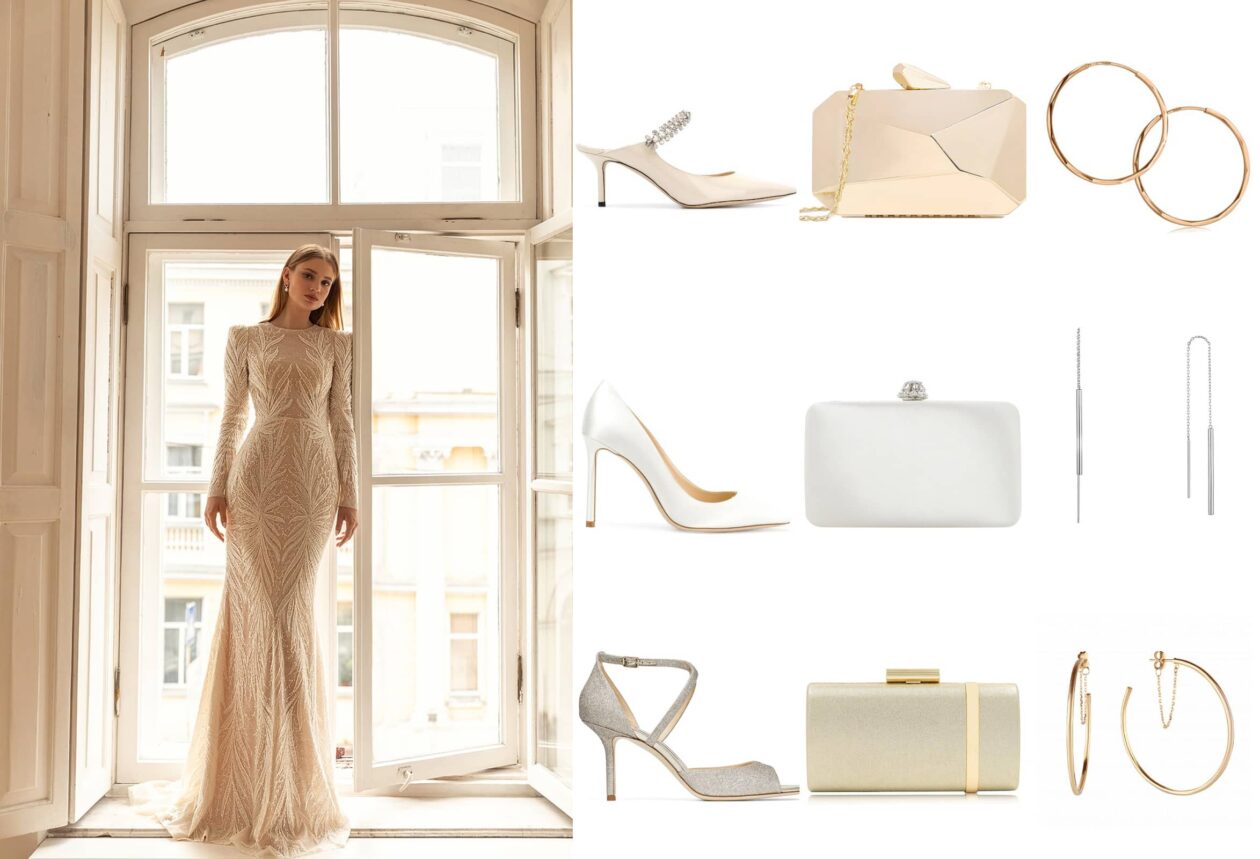 Since the dress is decorated with a geometric pattern and embroidered with sequins, we advise you to choose laconic accessories. Delicate hoop earrings or long ear threads that are made of the white gold will fit well. Choose classic shoes with a pointed toe or shoes that are decorated with sequins or stones. Give preference to clutches without unnecessary details, but pay attention to the texture.