Undoubtedly, shopping for a wedding dress is an exciting experience. However, with such a lot of different styles, it can be challenging to select the perfect dress for your big day. Therefore, understanding different types of wedding dresses is vital — it will help you narrow down your options and make your shopping experience much more enjoyable.
In this wedding dress styles guide, we're exploring different kinds of wedding dresses, from the traditional ball gown to the contemporary jumpsuit. We'll also delve into different types of necklines and sleeves, as these can significantly impact your wedding dress's overall look and feel.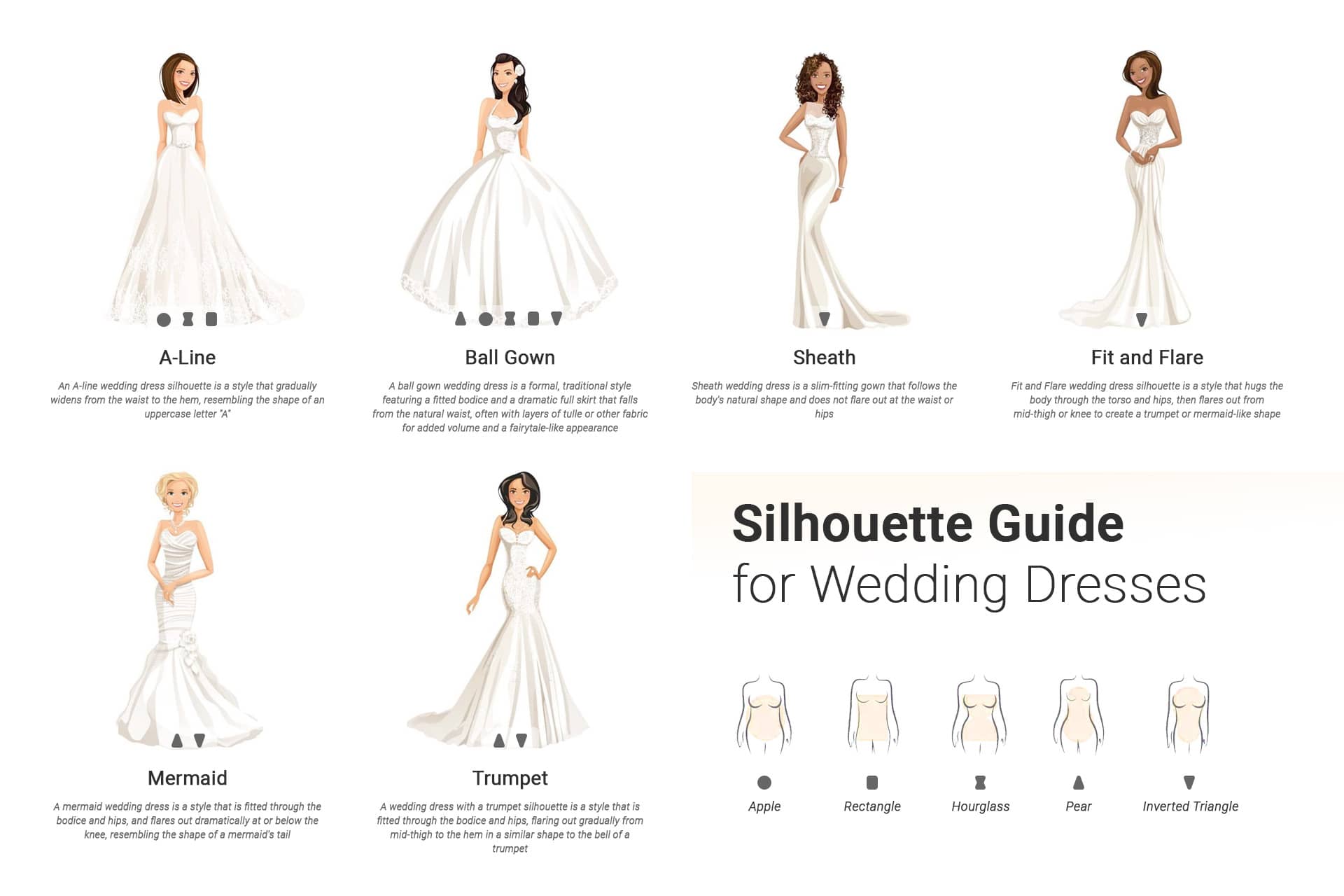 ---
Choose yours from all wedding gown silhouettes
The silhouette is the main feature that makes wedding dresses different. Let's take a more detailed look at some of the most popular wedding gown silhouettes.
Ball gown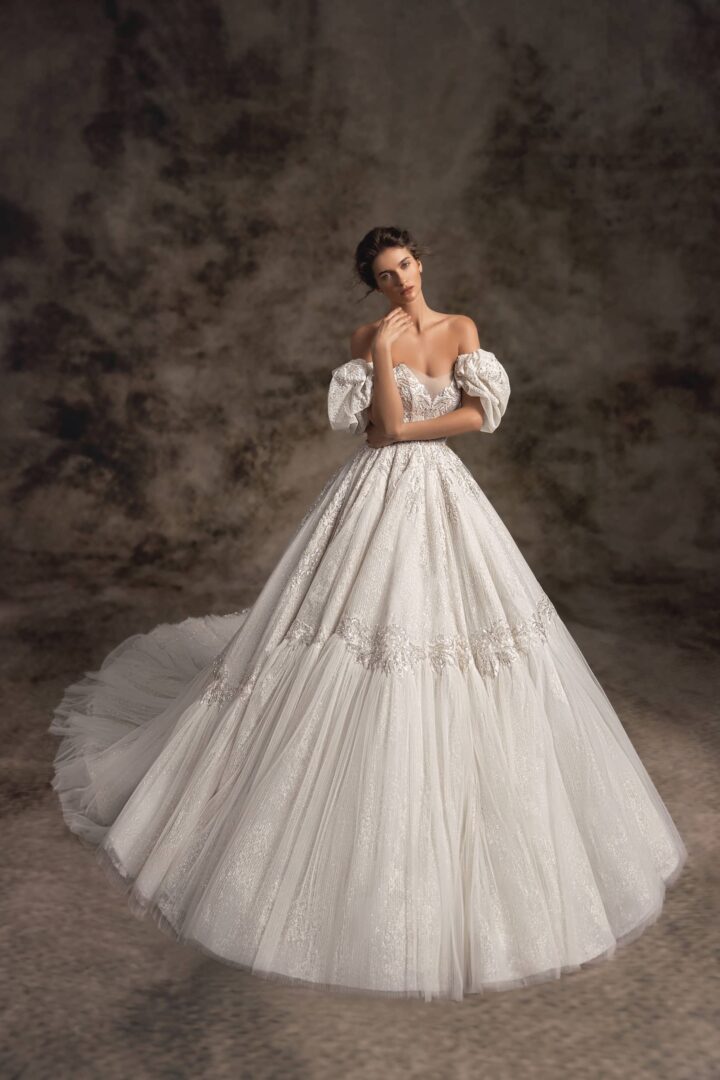 There's no surprise in that a ball gown is one of the most favoured bridal silhouettes globally — a bell-shaped, full skirt is sure to make you feel like a princess. This is a classic solution perfect for slim-hipped brides with fuller busts.
A-line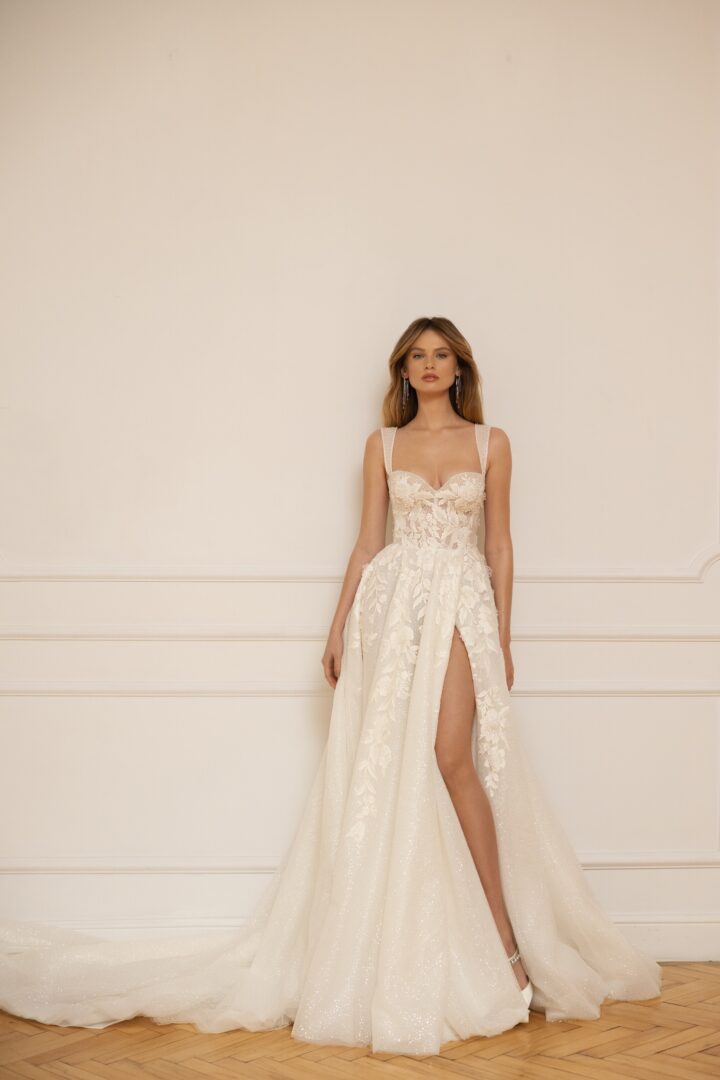 If you're looking for a wedding dress offering fairytale charm without overwhelming volume and drama, an A-line silhouette is a great option. This style features a fitted bodice that flares out gently to create a flattering "A" shape, accentuating the waist.
Mermaid silhouettes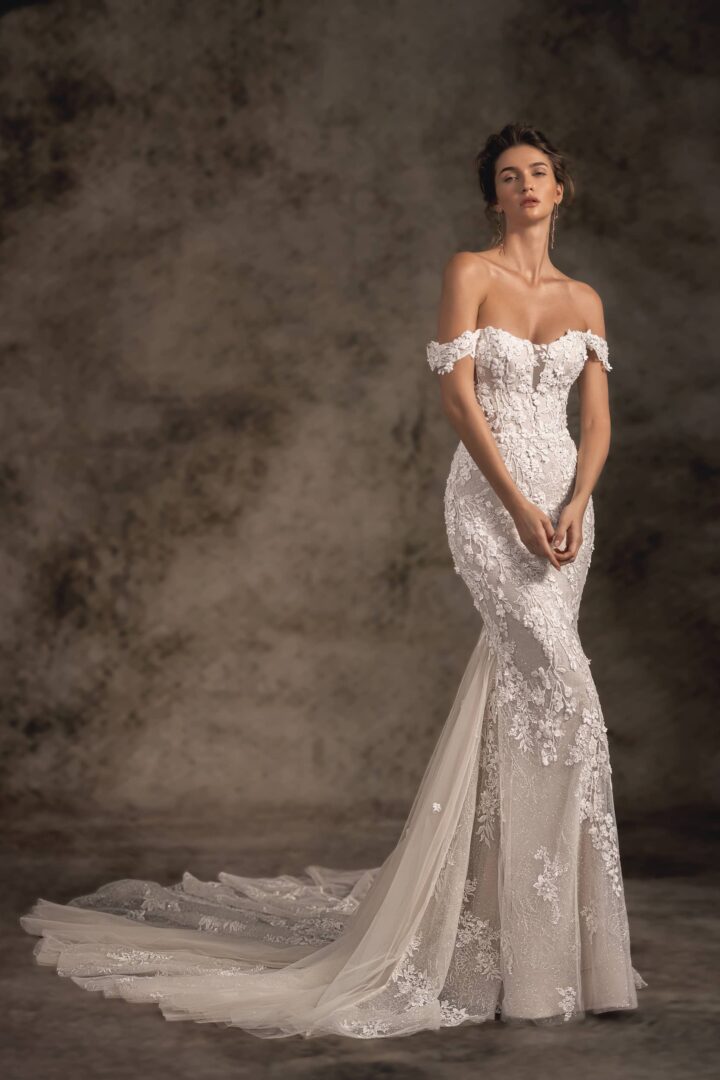 If your dream dress should be sleek and sexy, the mermaid silhouette could be your way to go. One of the most popular bridal gown silhouettes, this style features a fitted bodice that hugs your curves from the chest down to the knee, where it flares out in a dramatic finish. With its emphasis on body-hugging lines, the mermaid silhouette is the ultimate way to showcase your curves.
Sheath (column) dress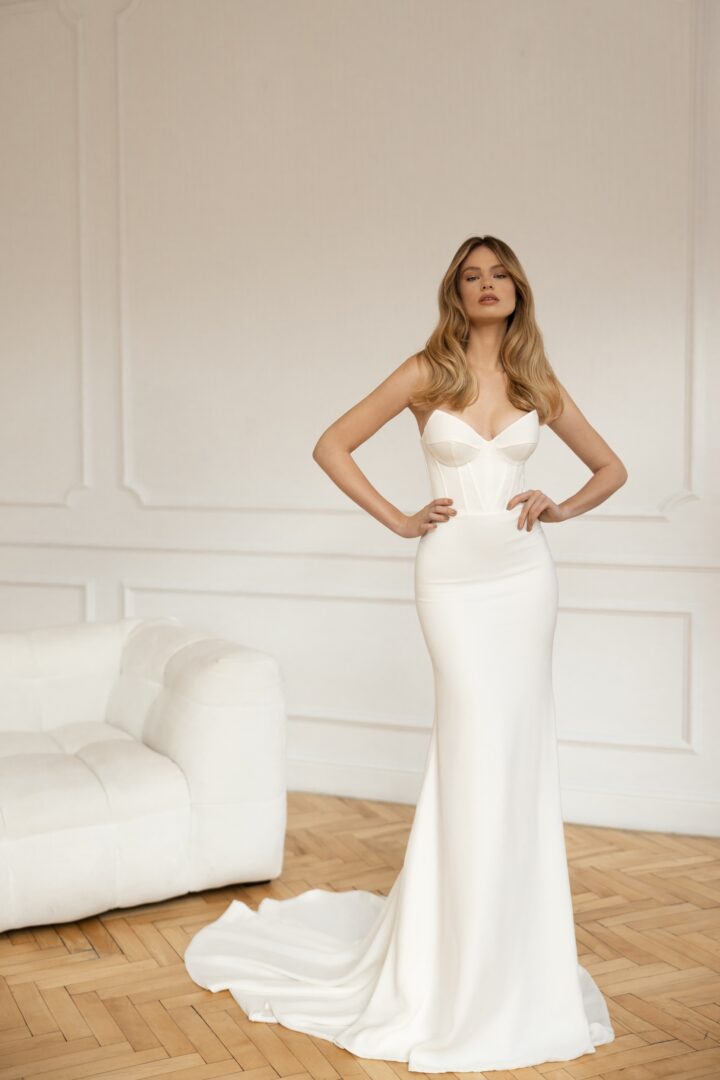 Simple and elegant, the sheath follows your natural body shape from top to toe. The snug fit gives petite brides an elongated look that helps them appear taller. A sheath dress is also a stunning choice if you wish to draw attention to your curves.
Fit-and-flare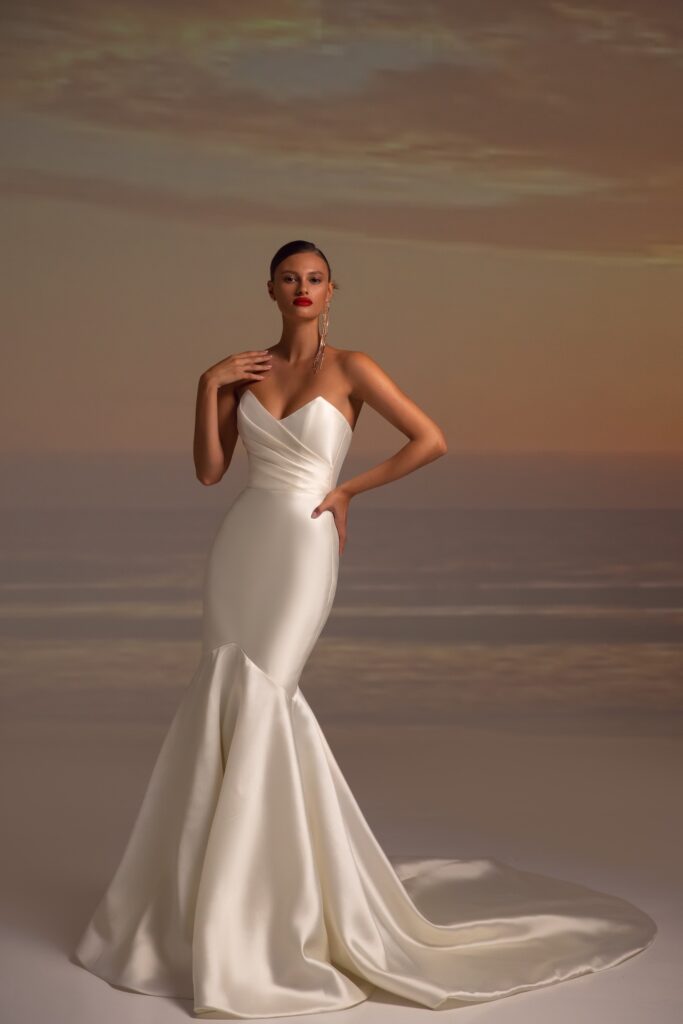 The fit-and-flare silhouette is fitted through the bodice and hips, flaring out gradually towards the hemline in a soft and romantic finish. This is the perfect wedding dress to accentuate your curves while allowing for plenty of comforts. While the fitted bodice highlights your upper body, the flared skirt creates terrific volume and movement, helping to balance out your figure, which makes the fit-and-flare style suitable for most body types.
Trumpet dress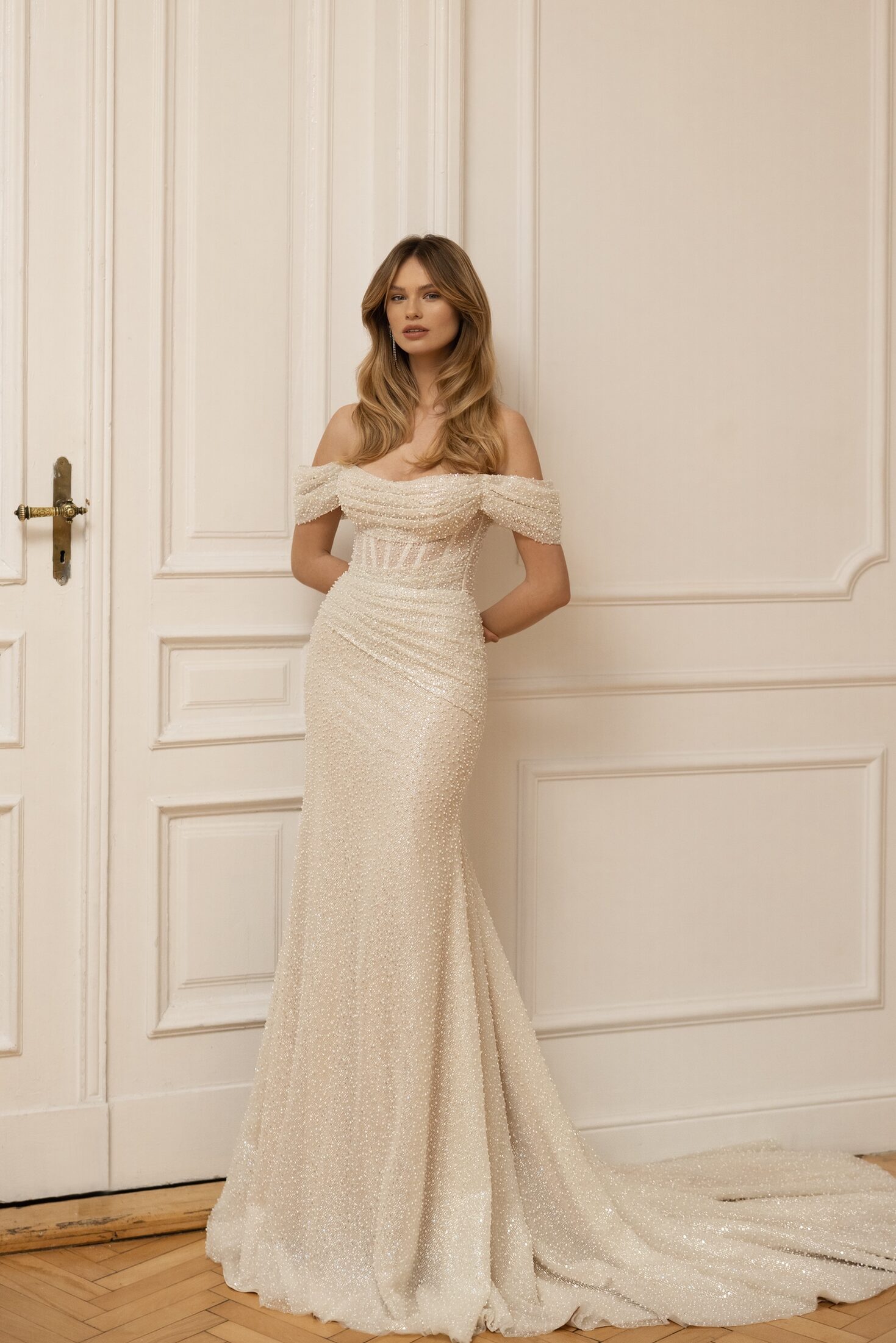 One of the most comfortable wedding dress shapes, a trumpet silhouette, is similar to a mermaid style. Still, it is fitted through the chest and waist before flaring out slightly around the knees, creating a sleek, feminine look. However, unlike the mermaid style, the trumpet silhouette provides greater freedom of movement, making it an excellent choice for brides who want to show off their curves while still being able to dance and mingle with ease.
Jumpsuit — an alternative bridal silhouette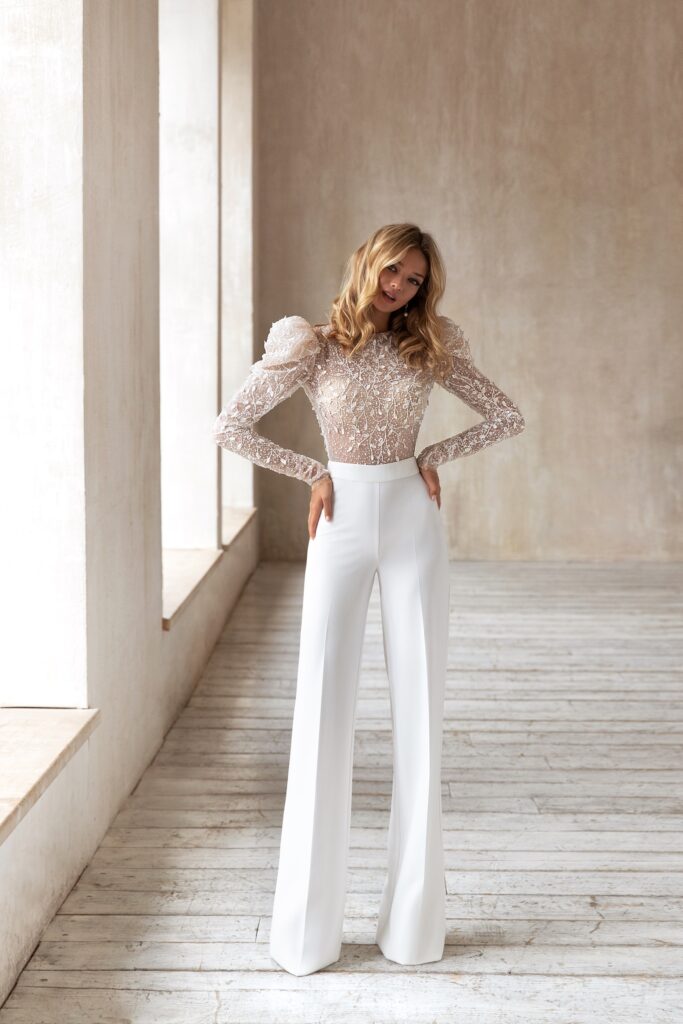 Brides craving to break the mold and try something different should consider a wedding jumpsuit. This silhouette is incredibly versatile, from sleek and minimalist to bold and embellished. Still, the main advantage of the wedding jumpsuit is that it's a universally flattering option. By creating straight lines on your body, it highlights the waist and makes your legs look longer. Also, a wedding jumpsuit is a practical choice for ladies who want to feel comfortable and free to move on their wedding day.
---
Different style wedding dresses: neckline
From classic and traditional to modern and daring, there are various necklines to choose from, making it easy to find one to suit your body type and personal style.
High neckline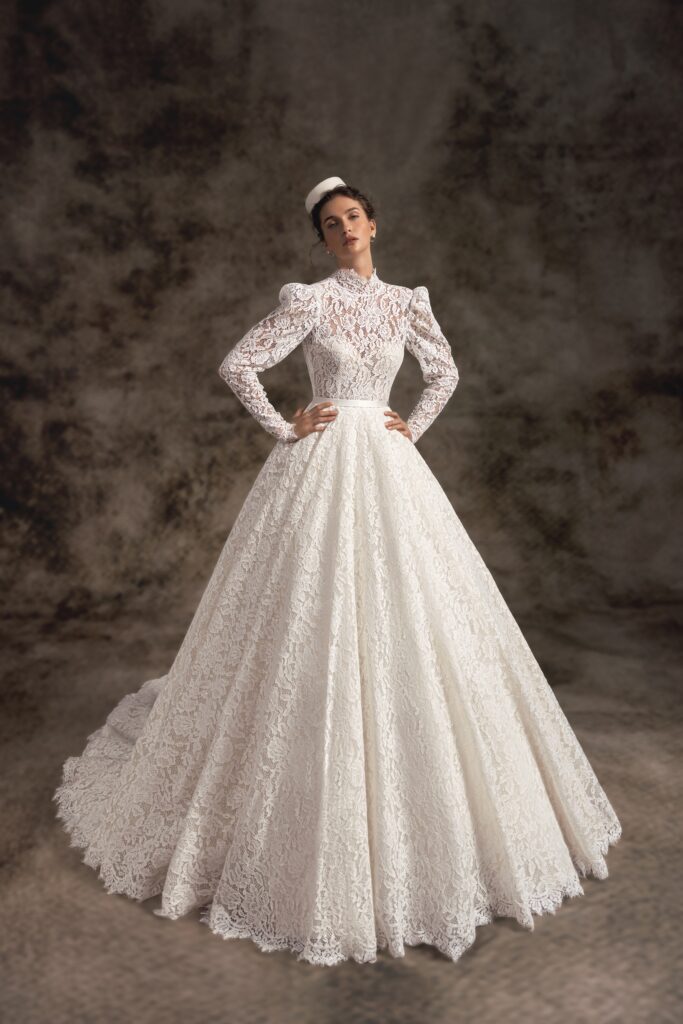 A high neckline is an elegant option for brides who prefer to show less skin on their wedding day. This style features a neckline that sits high on the collarbone, covering most of the neck and chest area. High necklines come in various types, including illusion, lace, or with a collar. High necklines work well on brides with smaller busts and provide a flattering silhouette for taller brides.
V-neck
This style features a V-shaped neckline that plunges downward in the front, producing a flattering elongating effect. V-necklines can be shallow or deep, featuring illusion fabric, lace, or beading for added detail. This neckline is ideal for women looking to accentuate their busts. V-necklines work well with different types of wedding dresses, from ballgowns to sheaths, and can be combined with various sleeve lengths.
Sweetheart neckline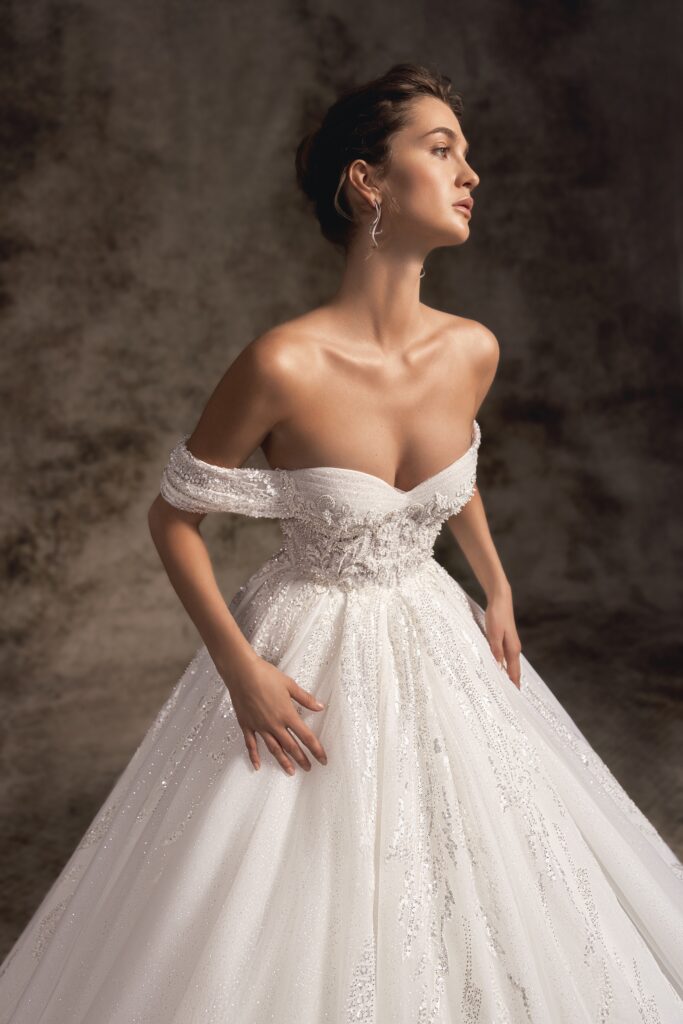 Many brides choose wedding gowns with a sweetheart neckline, which is the most romantic option for a wedding. This curved neckline dips down in the center, resembling the shape of a heart. Sweetheart necklines can be subtle or dramatic, depending on the depth of the dip. This type of neckline is perfect for brides who want to accentuate their collarbones and make their busts visually fuller. Sweetheart necklines pair well with all shapes of wedding dresses, both sleeveless and with sleeves.
Square (straight) neckline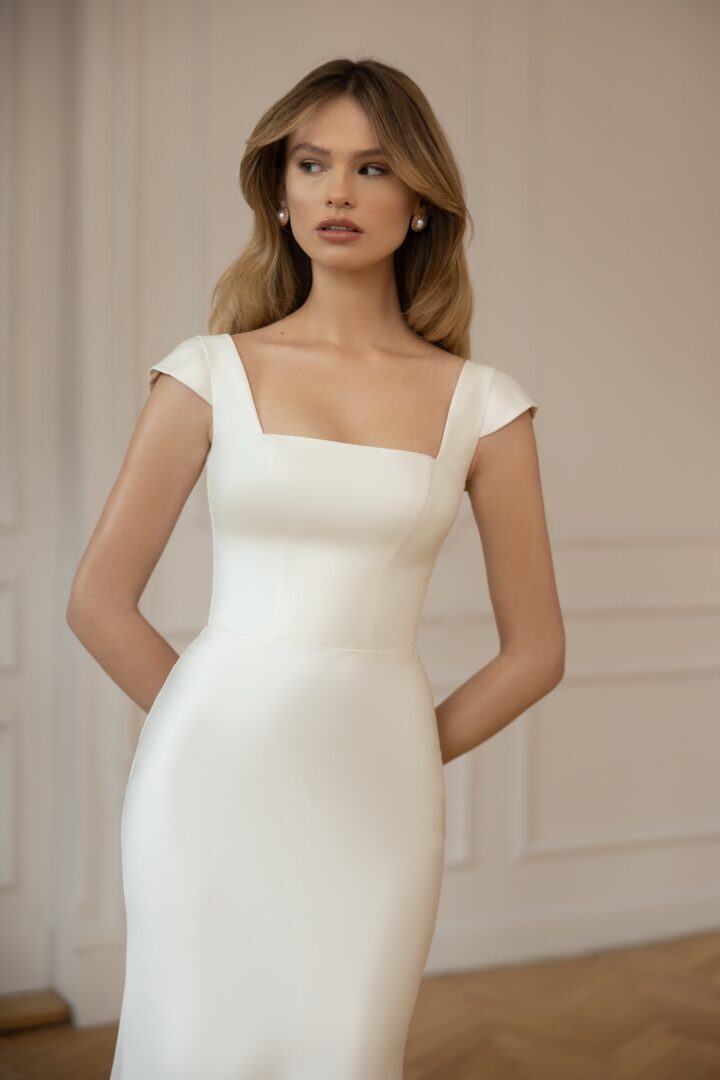 A square neckline has a straight edge that sits parallel to the collarbone. It looks gorgeous on most types of wedding dresses, with a square neckline and a ball gown, an A-line dress, or a sheath being the most popular combinations. The square neckline is the best choice for brides who don't mind showing off their shoulders and collarbones, as well as for those with a larger bust, as the straight line produces a balancing effect. The square neckline is often combined with long, off-the-shoulder, or cap sleeves.
Asymmetric neckline
The asymmetric neckline has a unique, off-center design that can be created in different ways, such as a one-shoulder design, a diagonal cut, or a draped effect. It's an ideal solution for brides who want to draw attention to their shoulders and add a touch of personality and uniqueness to their wedding dresses. The asymmetric neckline pairs well with the most popular styles of wedding gowns and different sleeve lengths.
Off-shoulder style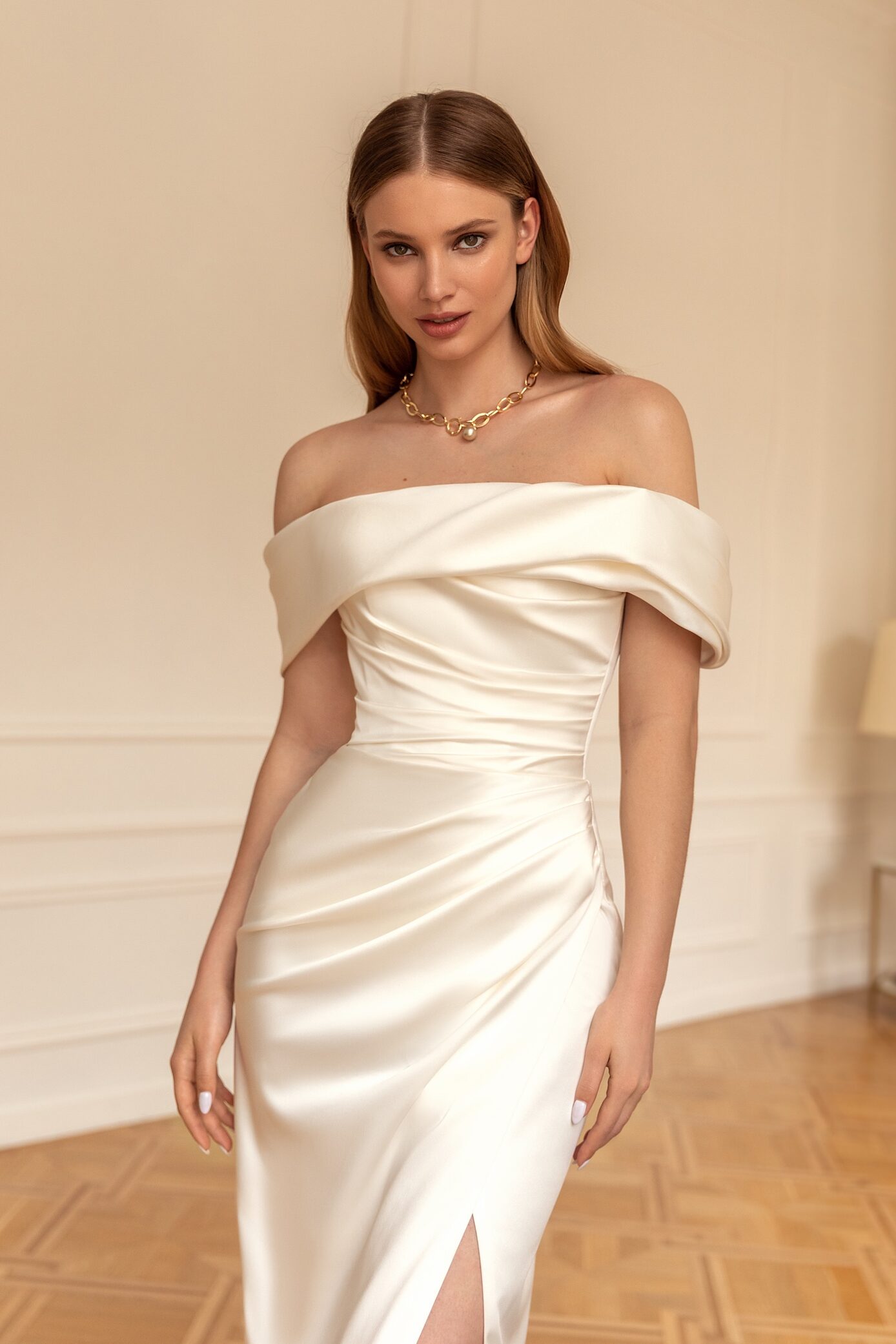 The off-shoulder style is an ultimately romantic and feminine choice. This neckline sits just below the shoulders, exposing the collarbone and shoulders while covering the upper arms. The off-shoulder neckline can feature a straight or curved neckline. It can be paired with different sleeve lengths, from wide straps to long, flowing sleeves. This style can be your perfect option if you're looking to accentuate your shoulders and arms in an elegant way. The off-shoulder neckline combines well with virtually all wedding dress cuts, from fitted mermaid gowns to flowy A-line dresses.
Boat neck
The boat neck is a wide, horizontal neckline that runs from shoulder to shoulder, following the collarbone curve. Boat necklines are loved for their elegant and sophisticated look. They are often combined with long or cap sleeves to create a classic, vintage-inspired style. This type of neckline is particularly flattering for brides with a smaller bust, as it creates the illusion of a broader upper body.
Wedding dress shapes by sleeves
When selecting your perfect dress, one of the major factors to consider is the type of sleeves. So before you set off for the bridal salon, here are some popular types of sleeves to help you narrow your search.
Long sleeves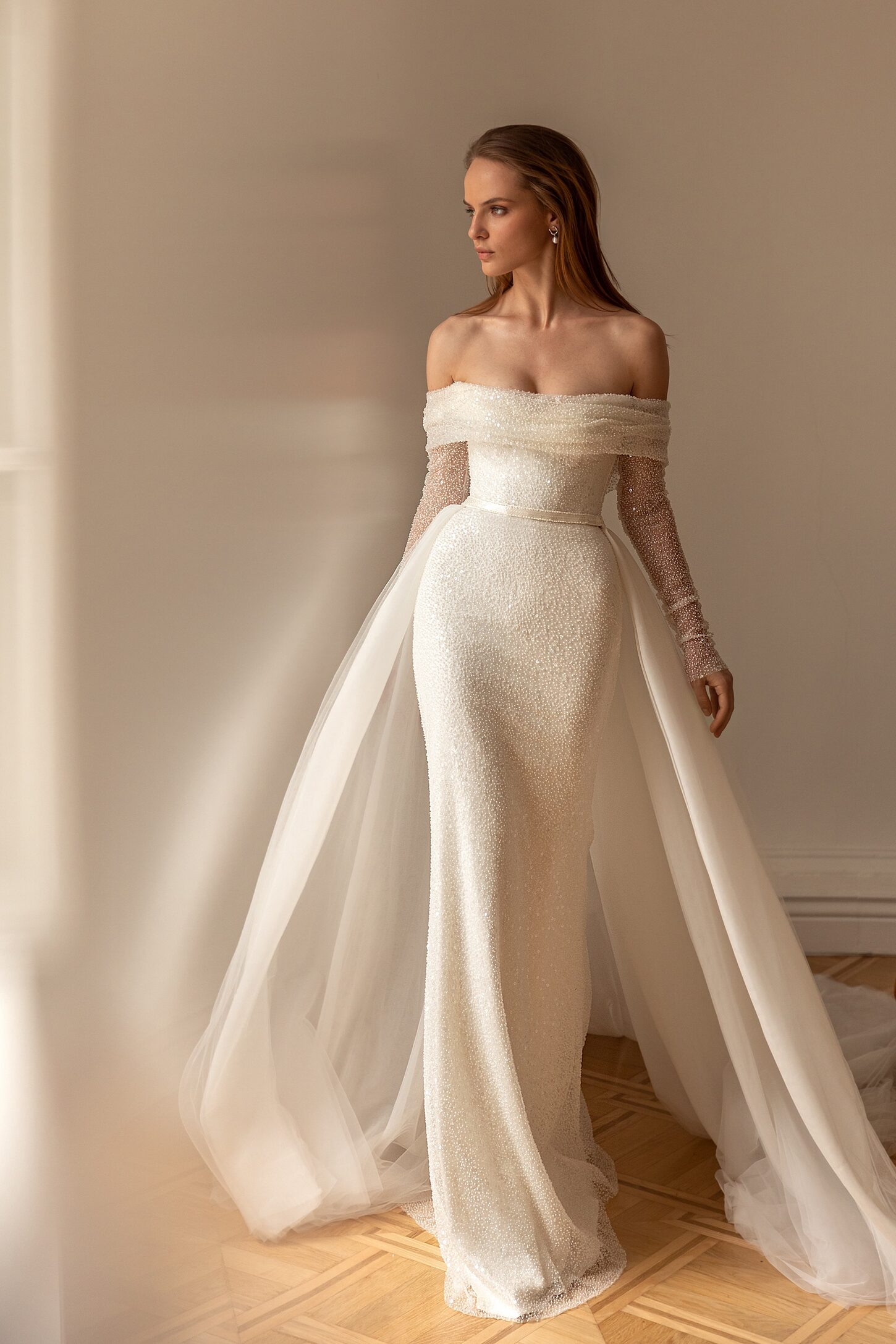 Long sleeves are a popular choice, especially for winter weddings and conservative ceremonies. They can add elegance to any wedding dress style and can be made from various fabrics, from delicate lace to glossy satin. Long sleeves can range from fitted to billowy and include beading, embroidery, or appliqué.
Short sleeves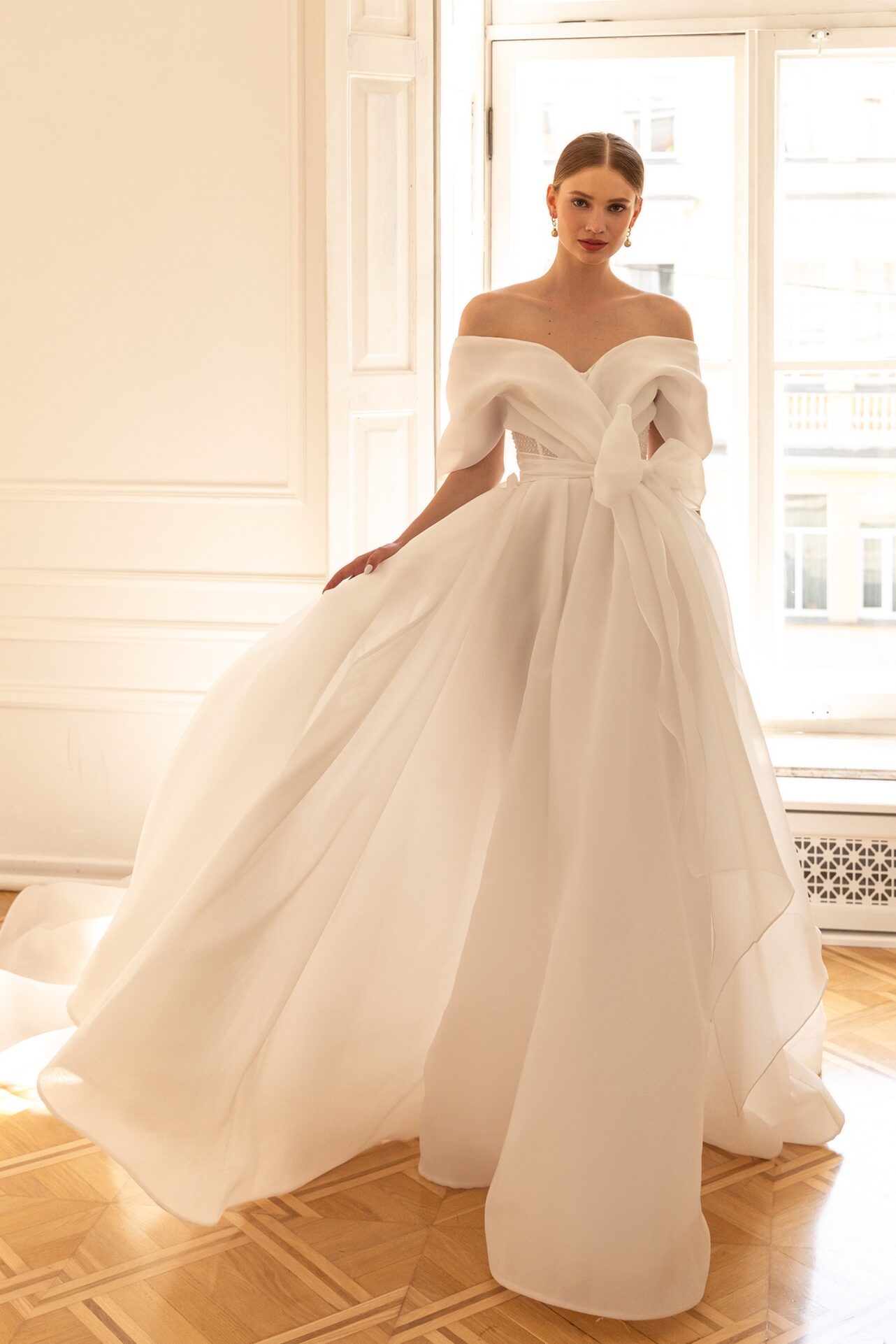 Short sleeves are a classic option for wedding dresses. They can inject femininity and elegance into any gown, working well on most body types. Short sleeves are perfect for brides getting married in the cooler months and those who want a more modest look without sacrificing style.
Cap sleeves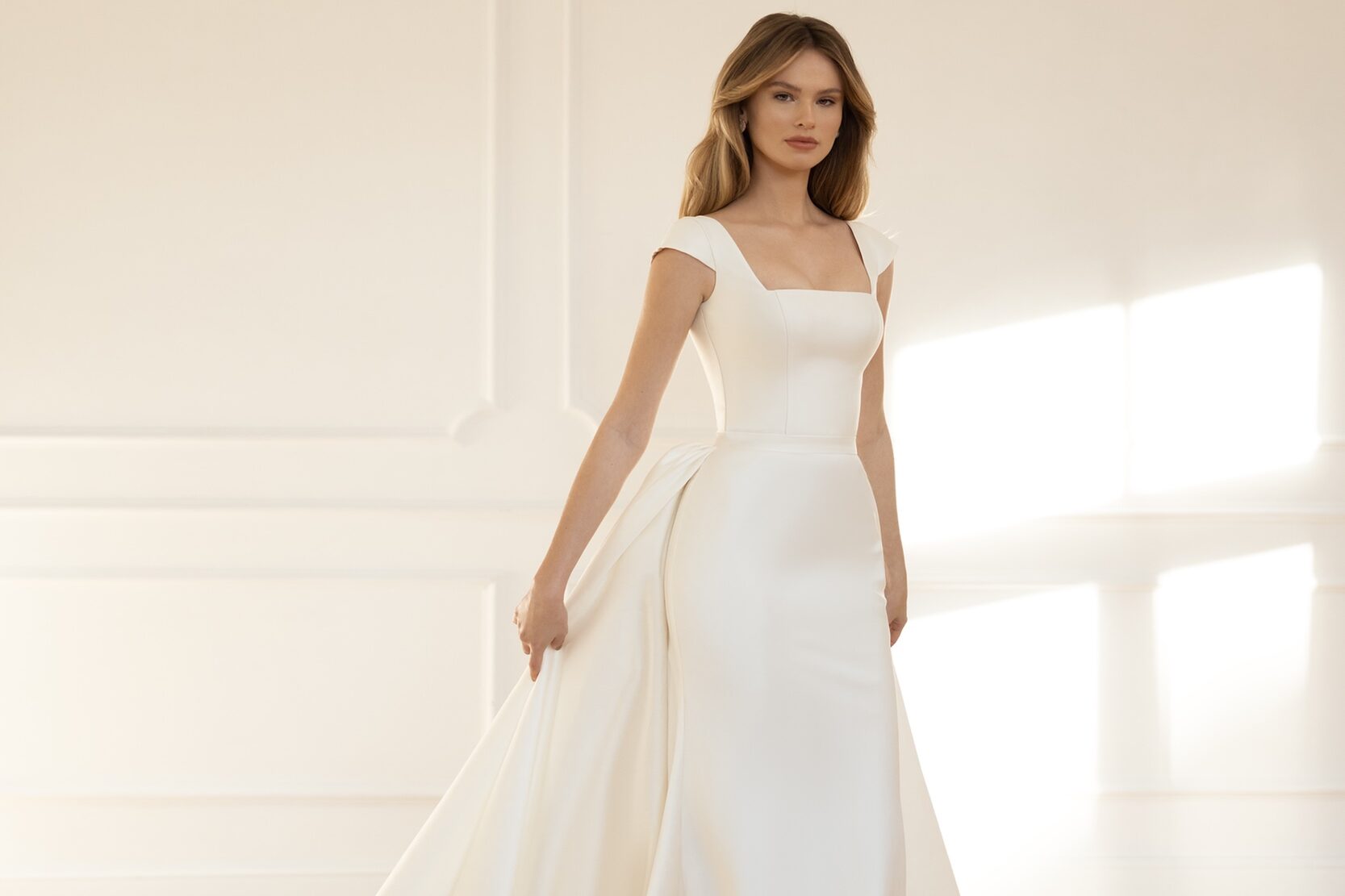 If you want a little more coverage than a sleeveless dress without compromising on comfort, consider a wedding dress with cap sleeves. You can opt for simple or embellished short sleeves, depending on the style of the dress. Although cap sleeves are often found in vintage dresses, they also pair well with modern designs.
Bell sleeves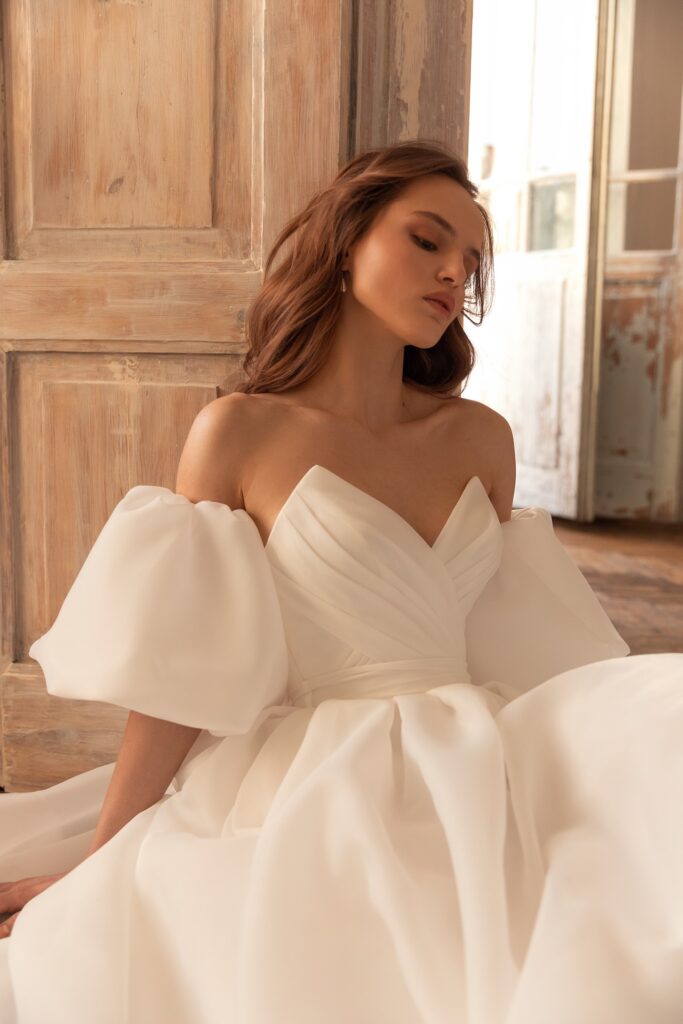 A stylish addition to any wedding dress silhouette, bell sleeves have a flared shape, typically starting at the elbow or upper arm and flowing down to the wrist or just below it. Bell sleeves come in different lengths, from three-quarters to full-length. This type of sleeve is sure to add a touch of glamour and elegance to your look.
Spaghetti-strap dress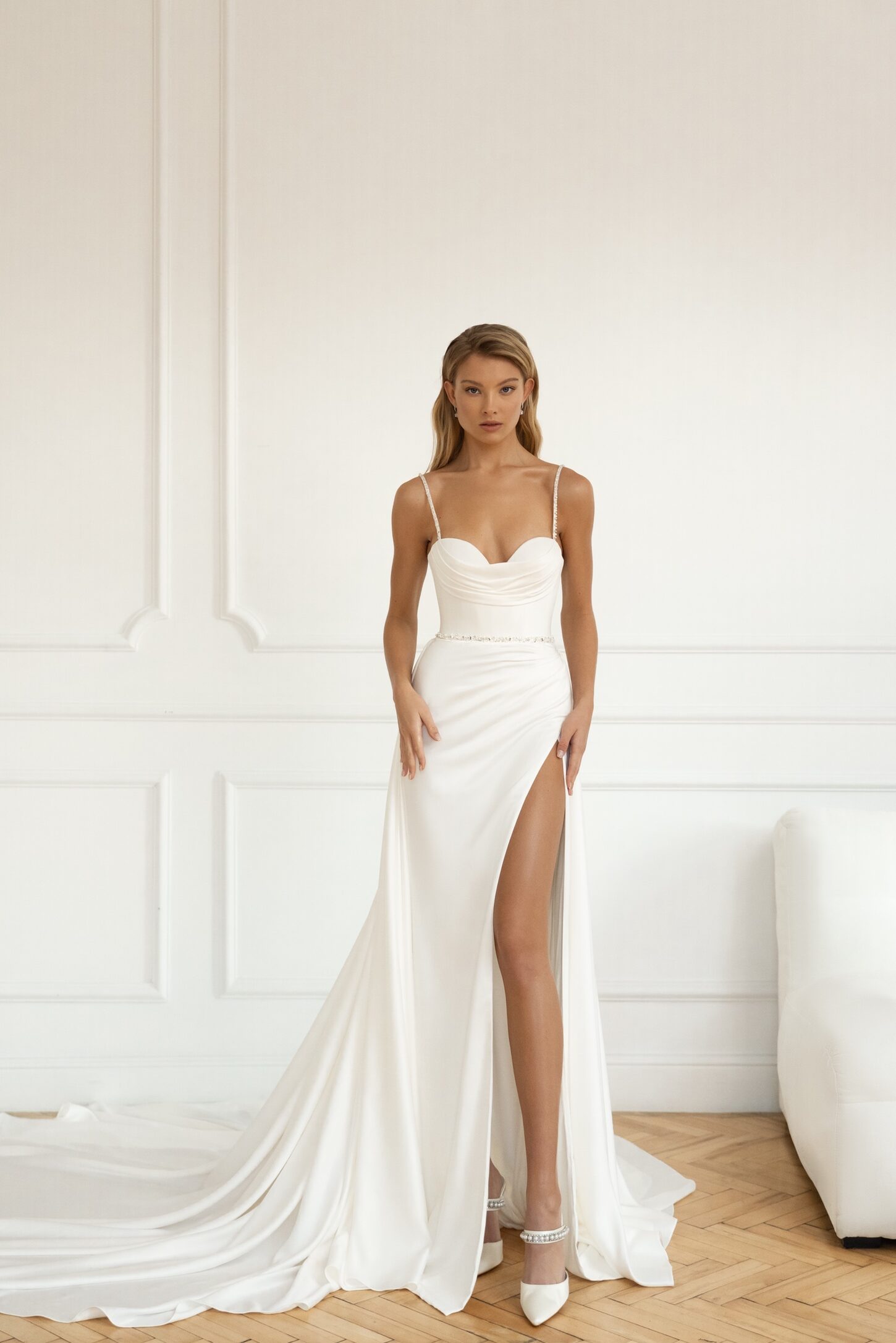 Spaghetti-strap dresses are popular with brides who prefer a minimalist look. Thin, delicate straps can be paired with different necklines. Spaghetti-strap gowns are loved for the freedom of movement they provide, making them perfect for weddings with a lot of dancing.
Strapless dress
You might love a strapless wedding dress if you want to show off your shoulders and collarbone. This style is perfect for brides who prefer a simple and elegant look. To ensure a comfortable fit, a strapless wedding dress should be fitted properly with a supportive structure, such as a corset or boning, to hold it in place and prevent it from slipping down.
Illusion sleeves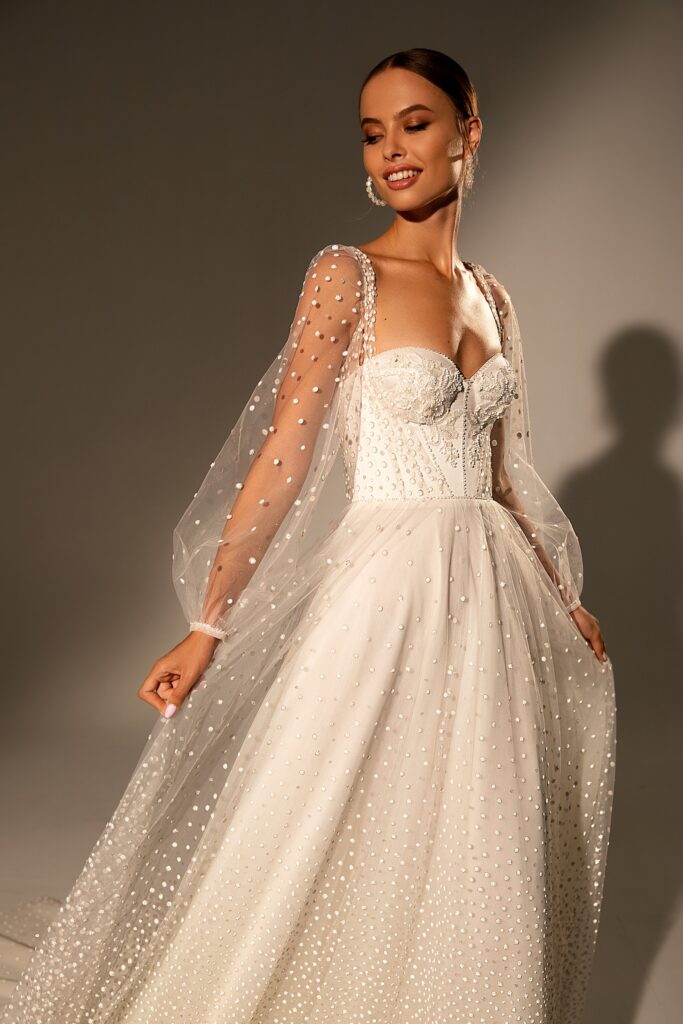 Illusion sleeves are a stylish addition to any wedding gown, making for a glamorous look. Illusion sleeves are sheer or transparent, often with intricate lace or beading, giving the illusion of bare skin while still providing coverage.
Sleeveless wedding dress
A sleeveless wedding dress is a classic choice that always stays in vogue. It's an excellent option for brides who want to show off their arms and shoulders. One of the best things about a sleeveless dress is that it provides greater ease of movement, making it an ideal choice for brides who plan to dance the night away.
Choose the best wedding dress style and emphasize your beauty
Choosing the best wedding dress for your big day is all about striking a balance between comfort and your personal style. At WONÁ bridal boutique, we have a fabulous collection of wedding dresses. We are always happy to help you choose the dress that will make you look and feel special on your wedding day. So whether you prefer a traditional A-line, a glamorous mermaid silhouette, or a trendy jumpsuit, the perfect dress awaits you!
Popular questions about the wedding dress cuts
What are the most popular wedding gown styles?
The most popular wedding gown styles include A-line, ballgown, mermaid, and sheath. Different styles of wedding dresses offer unique looks and can complement different body types.
How to choose a wedding dress for my body shape?
Different types of wedding dresses flatter different body shapes. To choose a dress for your body shape, consider your natural silhouette and look for styles that highlight your best features. For instance, A-line dresses and ball gowns work well for pear-shaped bodies, while mermaid and sheath silhouettes can flatter hourglass and straight body types.
How to choose the right wedding dress size?
Choosing the right wedding dress size calls for accurately measuring your bust, waist, and hips and using a size chart to identify your size.